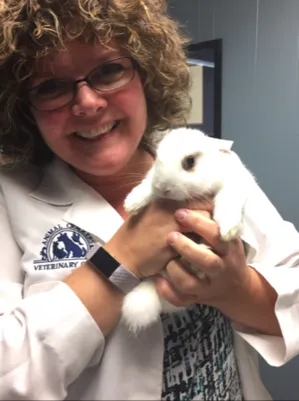 Dr. Michelle Cowley
Michelle Cowley, V.M.D. (formerly Hawks) is the owner/veterinarian at Animal Crackers Veterinary Clinic. Dr. Cowly is a 1995 graduate of the University of Pennsylvania School of Veterinary Medicine. She received her bachelor's degree from the University of Delaware.
In March of 2001, Dr. Cowley purchased the veterinary practice and property in Lansdale. Dr. Cowley has worked very hard to make the practice one that reflected her vision of what a veterinary clinic should be - friendly, compassionate, trustworthy, and most importantly, practicing high quality medicine. The doctor prides herself in providing that extra personal touch to every patient and client. Dr. Cowley was named "One of America's Best Veterinarians" in 2014.
When Dr. Cowley is not at the clinic, she spends her time with her family. She has four children - Joe, Cassandra, Samantha and Sage. Like their mom, Joe, Cassandra, Sami and Sage all have a great love of animals. The family has 4 dogs. Sparkles, the oldest, is a Pug/Beagle/Jack Russell Terrier mix. Reeses is a Staffordshire Terrier mix that was dropped off at the clinic. Roscoe is the bloodhound that often greets you by barking at the gate. Daisy joined the family about a year ago, and is a Miniature Dachshund. Last, but not least is Buttercup, a loving, 3 legged cat adopted through Stray Cat Blues.