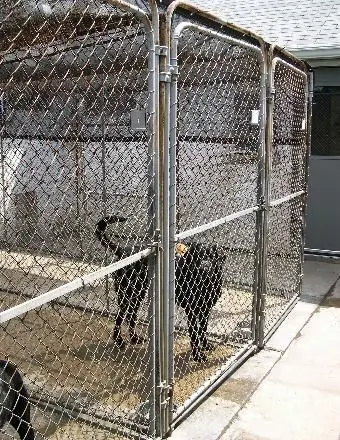 At Animal Crackers Veterinary Clinic, we believe in providing a safe and comfortable place for your pet to stay while you are away. Our experienced staff carefully monitors your pet, to assure that all of their needs are met. You can always be assured that your companion is being treated as one of our own pets.
Located on three beautiful acres, we provide a serene and country setting for dogs, cats, as well as exotic pets. Animal Crackers Veterinary Clinic has the added benefit in that Dr. Cowley is available to help supervise your pet. For your convenience, veterinary services (vaccines, dentistry, etc.) can be given while your pet is visiting with us.
Accommodations
Every morning, dogs are escorted to their own private indoor/outdoor run. Each run is supplied with a comfortable bed for your pet to relax in during their stay. Fresh water is available throughout the day. Dogs can be fed once, twice or three times daily, depending on your preference. At night, the dogs are accompanied indoors to their individual cages and "tucked in" for the night. All indoor areas are heated/air-conditioned to keep your pet comfortable.
Cats receive the same special treatment while staying with us. Each cat is provided with a private cage which accommodates their litter box, food, water and living area. We provide a comfortable blanket for those cats which like to snuggle-up and nap. The facility is heated in the winter and air-conditioned in the summer for your pet's comfort. We also offer a fresh-air system to assure clean, fresh and healthy air at all times.
Play Time
Treat your pet to some special attention while you are away. During Play Time, your pet is the star. Dogs are invited to a romp in our large play yard. Our staff can play with your dog with a variety of toys, or just give lots of love and petting. These one-on-one sessions are loved by all and give your pet extra exercise and attention. We also offer Play Time for our feline friends. Cats can jump and play with our staff in our indoor kitty room. Toys and treats are available for the cats as well.
Play Time sessions run for 15 minutes. You can schedule as many Play Time sessions as you would like during your pet's stay.
Check In
Animals may be admitted for boarding services from 8:30am through 4:30pm on Monday, Wednesday, Thursday and Friday, between 8:30am and 1:30pm on Tuesdays and between 8:30am and 1pm on Saturdays. We are closed on Sundays. During the check-in process, we will check your pet's vaccination status, special instructions, and emergency information. We will also schedule a specific pick-up time. If you would like your pet to receive any veterinary care (examinations, dental cleaning, etc.), please alert the staff.
Check Out
Pick-up times are scheduled during your check-in procedure. Pick-up times are from 11am - 4:30pm on Monday, Wednesday, Thursday and Friday, between 11am and 1:30pm on Tuesdays and 11am - 1pm on Saturdays. We are closed on Sundays. Specific times are scheduled so that we can assure that your pet is clean and ready when you arrive. Any changes in pick-up times or dates must be made 24 hours in advance.
Bathing
All dogs and cats receive a bath on their discharge date. Baths are mandatory. Our trained staff will bathe your pet shortly before you arrive. Each pet goes home feeling fresh and smelling clean. Additional services such as nail trims and teeth brushing are also available.
Belongings
We provide high quality foods for all pets. If you would like your pet to receive their regular diet, there is no additional charge. Please package food into individual meals in plastic baggies. Animals are typically fed once a day, however we do accommodate special instructions. Please do not bring any beds, towels or blankets; we have these available for your pet. Medications should be labeled with the pet's name and dosing instructions.
Cats
Cats are housed separate from dogs for a more calm environment.
Required vaccinations
Dogs: DAPP, Canine Influenza, Bordetella and Rabies
Cats: FVRCP/FCV and Rabies
The practice also boards exotic pets as well as provides Daycare for dogs.